Vein Finder SIFVEIN-6.01 With Table Bracket
The Vein Finder SIFVEIN-6.01 is a Class I medical device and observation tool composed of a main board, a display screen, a LED light source and a camera and comes with a Table Bracket. This Desk type Vein Detector SIFVEIN-6.01 is used to find veins easily, for subcutaneous superficial blood vessels and for assisted puncture, such as assisted venous diagnosis and intravenous injection. With its fully digital windows system that gives a stable operating environment and with its fast response, self-scanning function and a precise, clear, and accurate image, the Vein Detector SIFVEIN-6.01 not only provides you with real projection vein image of 3 different types of color adjustment ( Red, Green, White) as per different skin condition, but also gives you a brightness adjustment of vein image according to circumstance. The Vein Finder SIFVEIN-6.01 also, provides you with a depth identification of more specific vein location mainly in heart bypass operation in Cardiology, etc. Not to mention the Child Mode that reduces the size and the processing of vein images in addition to reducing bidirectional pain caused by children's injection problems.
Principles:
The absorption between blood hemoglobin and periphery tissue is unlike for different wave-length near-infrared. To show the vein clearly by machine through photoelectric conversion and image processing.
Applications:
Injection Section
Plastic and Cosmetic Surgery
Clinical Laboratory
Peripheral Vascular Section
Dialyses Section
Cardiovascular Department
Geriatric Department
Laboratories
Specifications:
Resolution: 420*480TVL.
Main Wavelength Of Light Source: 750nm~940nm.
Charger: DC +12V 4A.
Battery Backup Time: Up to 3.5 hours.
Surface Temperature: Increase 10℃ or Less After 30 Minutes Running.
Camera Resolution: ≥600Lin.
Operation Mode: Run Continuously.
Atmospheric Pressure: 86kPa~106kPa.
Charging Time: 4 hours.
Power Supply: DC+12V, 10W.
Safety Classification: Class I Type B.
Probe Net Weight: 0.53KG.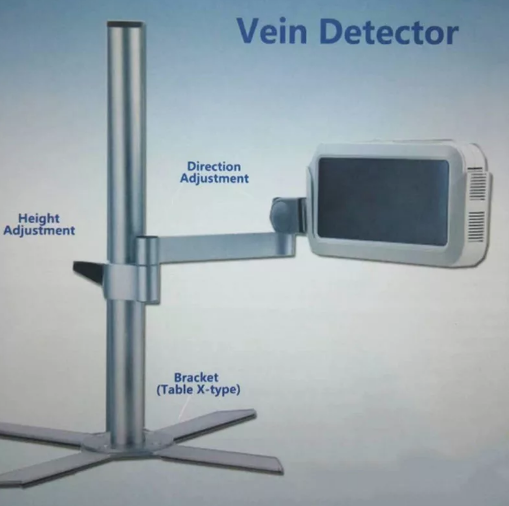 Working mode: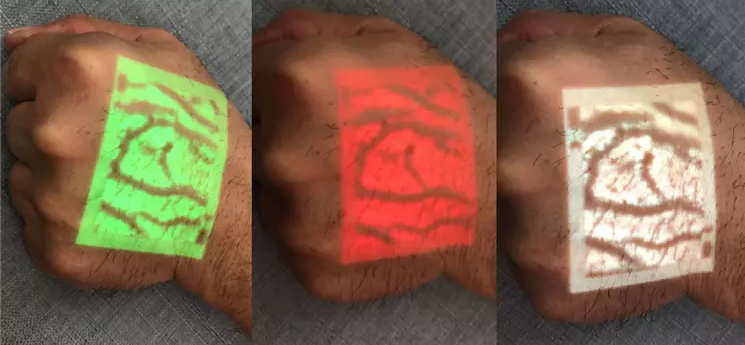 Color Adjustment
It gives real projection vein image and high accurancy and switchs color among RED, GREEN, WHITE for different skin condition.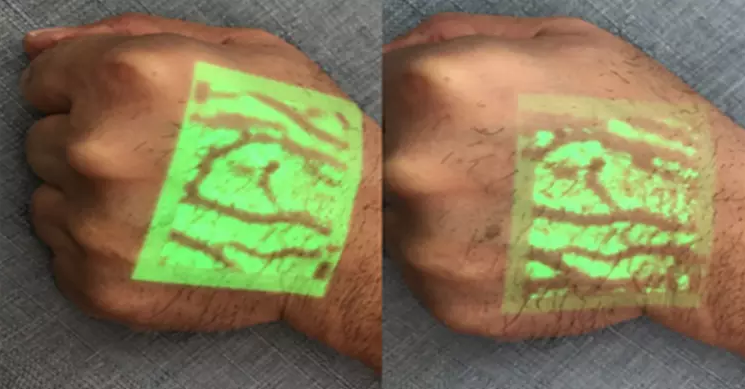 Brightness Adjustment
It regulates the brightness of vein image according to environment and reduces the outside impact in addition to providing an excellent image quality to adapt different condition.
Black and white reverse
It switches the current vein and background color. In order, to make a clear contrast and enhance the vein positioning judgment.
Depth Recognization
It gives specific vein position mainly for stripping the accurate location of the vein in the heart bypass operation in Cardiology, etc.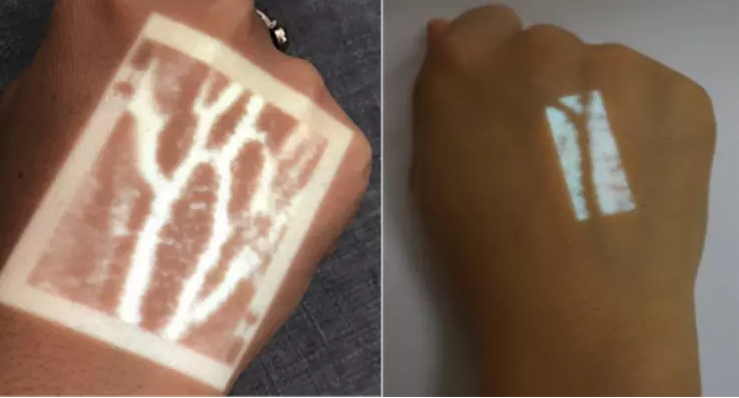 Child Mode
It reduces large-area projection interference and improves the success rate of puncture.